The conference
The 17th annual International Technology, Education and Development Conference (INTED2023) was held in Valencia (Spain) on the 6th, 7th and 8th of March, 2023.
Publication details
About the conference
The INTED2023 Conference Proceedings contain selected and revised papers that were presented at the 17th annual International Technology, Education and Development Conference.
INTED2023 was a three-day event which took place from the 6th to the 8th of March, 2023. Since it began 17 years ago, hundreds of delegates from universities and educational institutions from all around the world come together to share their scientific research about technology, education and development. This year's conference welcomed participants from 76 different countries, who presented their invaluable research to ensure that all delegates are kept up-to-date about the newest developments in their field.
Aim and scope
The scope of INTED2023 included the following topics:
Experiences in Education
New Trends in the Higher Education Area
International Projects
Pedagogical & Didactical Innovations
Research in Education
Virtual Universities
Technological Issues in Education
Computer Supported Collaborative Work
Educational Software and Serious Games
Curriculum Design and Innovation
Quality assurance in Education
University-Industry Collaboration
E-content Management and Development
Distance Learning in Times of Crisis
Moreover, IATED aims to publish conference proceedings that contain original research articles of high quality, meeting the expected ethical standards. The language of the publication was exclusively English. Authors publishing in INTED2023 signed the IATED copyright transfer form. IATED shall guarantee the high technical and professional quality of the publications and that good practice and ethical standards are maintained. More information about IATED's publication ethics is available at: https://iated.org/publication_ethics.
Conference Program
The conference provided participants with the opportunity to take part in many different activities. As well as being able to observe oral sessions, pose questions and interact with presenters in the poster sessions, participants were also able to attend the keynote speeches and take an active role in the interactive workshops. The main aim of the program is to allow attendees to learn about emerging trends in education, and harness the power of technology to implement it successfully into their teaching.
As the aim was to encourage participants to make connections with other experts from around the world, different social activities were included in the programme. Therefore, participants were always given opportunities to interact with each other both inside and outside of the informative sessions.
Videos: Keynote Speeches
The keynote presentations were live-streamed, recorded, and are publicly available at IATED Talks.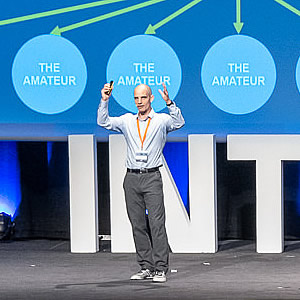 Keynote speech by Michael Wesch:
Teaching is really hard right now, and it's a "Great Thing"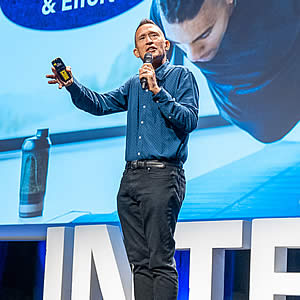 Keynote Speech by José Antonio Bowen: Blended and Included
Videos: Interviews
Pictures
International INTED2023 Program Committee
The Program Committee of the 17th INTED conference was made up of renowned educators from around the world belonging to international universities, higher education and research institutions. Their extensive experience helped to advise and aid the selection of the contributions and ensure that the content was of the best quality.
We thank the programme committee members who conducted a peer review process to guarantee the quality of the contributions. The following points were evaluated: information content, general structure, relevance, originality, and relation to the conference topics and disciplines.
Finally, we wish to thank all members, participants and delegates who were actively involved in INTED2023 and whose hard work and motivation made it such a success. Such a positive outcome would not have been possible without their dedication for education.
| Full name | Affiliation | Country |
| --- | --- | --- |
| Adam Smith | Future University Hakodate | JAPAN |
| Alan Carlson | University of Gothenburg | SWEDEN |
| Alessia Bevilacqua | University of Verona | ITALY |
| Allison Spring | Outside the Lens, Photography, Filmmaking and Digital Media Learning Lab | UNITED STATES |
| Ana Dias Daniel | University of Aveiro | PORTUGAL |
| Ana Paula Lopes | Polytechnic Institute of Oporto | PORTUGAL |
| Anna Dillon | Zayed University | UNITED ARAB EMIRATES |
| Antonio Coelho | FEUP / INESC TEC | PORTUGAL |
| Asako Ohno | Osaka Sangyo University | JAPAN |
| Denise Prescott | University of Liverpool | UNITED KINGDOM |
| Dina Nader | The American University in Dubai | UNITED ARAB EMIRATES |
| Elena Baguzina | Moscow State Institute of International Relations | RUSSIAN FEDERATION |
| Elena Grunt | Ural Federal University | RUSSIAN FEDERATION |
| Emanuel Tundrea | Emanuel University of Oradea | ROMANIA |
| Farhad Eftekhari | TechClass Ltd. | FINLAND |
| Filomena Soares | Polytechnic of Porto | PORTUGAL |
| Guilherme Penello Temporão | PUC-Rio | BRAZIL |
| Ilias Batzogiannis | Platon School of Katerini | GREECE |
| John Gordon | University of East Anglia | UNITED KINGDOM |
| Kadiri Abdul-Karim | MottMcDonald Limited | GHANA |
| Kalaimagal Ramakrishnan | Norttingham University | MALAYSIA |
| Karl Jordell | University of Oslo | NORWAY |
| Kimberly Hoggatt Krumwiede | University of Texas | UNITED STATES |
| Külli Kori | Tallinn University | ESTONIA |
| Loreta Juškaite | Riga Technical University | LATVIA |
| Luís Torres Moreira | Colégio Casa Mãe | PORTUGAL |
| Lukasz Wiechetek | Maria Curie-Sklodowska University | POLAND |
| Marcelo Gaspar | Instituto Politécnico de Leiria | PORTUGAL |
| Mária Bakó | University of Debrecen | HUNGARY |
| Maria Cutajar | University of Malta | MALTA |
| Marian Zajko | Slovak University of Technology in Bratislava | SLOVAKIA |
| Martina König | FH JOANNEUM GmbH - University of Applied Sciences | AUSTRIA |
| Mary Dempsey | National University of Ireland Galway | IRELAND |
| Matteo Bozzi | Politenico di Milano | ITALY |
| Michael Collins | Technological University Dublin | IRELAND |
| Michela Tramonti | European Training and Association for Cooperation Key to business | ITALY |
| Mohd Hassan Abdullah | Universiti Pendidikan Sultan Idris | MALAYSIA |
| Monika Banaś | Jagiellonian University in Krakow | POLAND |
| Peter Haber | Salzburg University of Applied Sciences | AUSTRIA |
| Petr Beremlijski | VŠB - Technical University of Ostrava | CZECH REPUBLIC |
| Petra Vondráková | VSB-Technical University of Ostrava | CZECH REPUBLIC |
| Remigijus Bubnys | Šiauliai University | LITHUANIA |
| Rob Branch | University of Georgia | UNITED STATES |
| Saime Matsu | Defense Language Institute | UNITED STATES |
| Sarah Hord | Roanoke College | UNITED STATES |
| Sarah Lukas | University of Education Weingarten | GERMANY |
| Stefania Cassar | Hult International Business School | UNITED KINGDOM |
| Susanna Bertelli | Istituto Nazionale di Fisica Nucleare | ITALY |
| Tânia Carraquico | ISEC Lisboa - Instituto Superior de Educação e Ciências | PORTUGAL |
| Tessai Hayama | Nagaoka University of Technology | JAPAN |
| Tracy Hoot | Thompson Rivers University | CANADA |
| Ursula Jahn | Saskatchewan Polytechnic | CANADA |
| Victor Fester | University of Waikato | NEW ZEALAND |
| Wan Sin Lim | University of Massachusetts Boston | UNITED STATES |
| Wendy Gorton | Educational consultant | UNITED STATES |
| Yulia Piller | University of Texas Southwestern Medical Center | UNITED STATES |
Conference Session Chairs
| Full name | Affiliation | Country |
| --- | --- | --- |
| Ana Breda | Universidade de Aveiro | PORTUGAL |
| Ana-Maria Cazan | Transilvania University of Braşov | ROMANIA |
| Andree Woodcock | Coventry University | UNITED KINGDOM |
| Anne Jantos | Technische Universität Dresden | GERMANY |
| Ben Zoghi | Texas A&M University | UNITED STATES |
| Bev Ball | University of Liverpool | UNITED KINGDOM |
| Brigit Kolen | Fontys University of Applied Sciences | NETHERLANDS |
| Carl Blue | Clemson University | UNITED STATES |
| Caroline Pulfrey | Ecole Polytechnique Fédérale de Lausanne | SWITZERLAND |
| Charles Weiss | Clemson University | UNITED STATES |
| Charmagne Paat | Quality Measures LLC | UNITED STATES |
| Christiane Caneva | Ecole Polytechnique Fédérale de Lausanne | SWITZERLAND |
| Colin Harrison | University of Nottingham | UNITED KINGDOM |
| David Erent | Aalto University | FINLAND |
| Deborah Bell | University of Sunderland | UNITED KINGDOM |
| Donna Taylor | University of Westminster | UNITED KINGDOM |
| Eimear Kelly | Technological University of the Shannon (TUS) | IRELAND |
| Elizabeth Cramer | Florida International University | UNITED STATES |
| Elizabeth Doone | University of South Florida | UNITED STATES |
| Esther Navarro-Illana | Catholic University of Valencia | SPAIN |
| Ghislain Maurice Isabwe | University of Agder | NORWAY |
| Ignatius Fomunung | University of Tennessee Chattanooga | UNITED STATES |
| Igor Verner | Technion - Israel Institute of Technology | ISRAEL |
| Ilaria Mussini | University of Verona | ITALY |
| Iona Sarieva | Saint Leo University | UNITED STATES |
| James Mendolia | Pratt Institute | UNITED STATES |
| Jorge Reyna | The Royal Australian and New Zealand College of Ophthalmologists (RANZCO) | AUSTRALIA |
| José Antonio Bowen | Association of American Colleges and Universities | UNITED STATES |
| Julie Ealy | Penn State Lehigh Valley | UNITED STATES |
| Kai Markus Talvio | Sharjah Education Academy | UNITED ARAB EMIRATES |
| Lauren Mandel | University of Rhode Island | UNITED STATES |
| Liat Biberman-Shalev | The Levinsky-Wingate Academic College | ISRAEL |
| Lorayne Robertson | University of Ontario Institute of Technology | CANADA |
| Maia Chkotua | International Black Sea University | GEORGIA |
| María J. Cantalejo Díez | Universidad Pública de Navarra | SPAIN |
| Mario Spiezio | World Bank | UNITED STATES |
| Marjo Poutanen | Laurea University of Applied Sciences | FINLAND |
| Marko Jaentti | Kajaani University of Applied Sciences | FINLAND |
| Marlies Matischek-Jauk | University College of Teacher Education Styria | AUSTRIA |
| Martin Rich | Bayes Business School | UNITED KINGDOM |
| Martin Žagar | RIT Croatia | CROATIA |
| Matthias Baume | Technical University of Munich | GERMANY |
| Meg Cassamally | York St John University | UNITED KINGDOM |
| Melissa Johnston | University of West Georgia | UNITED STATES |
| Mercedes Valiente López | Universidad Politécnica de Madrid | SPAIN |
| Michael Herczeg | University of Lübeck | GERMANY |
| Michael Wesch | Kansas State University | UNITED STATES |
| Michelle Rigsby | Texas A&M University | UNITED STATES |
| Milla Ylitalo | Laurea University of Applied Sciences | FINLAND |
| Nathalie Wesseling | Amsterdam University of Applied Sciences | NETHERLANDS |
| Neil Anderson | Queen's University Belfast | UNITED KINGDOM |
| Oonagh O'Brien | Munster Technological University | IRELAND |
| Peter Mozelius | Mid Sweden University | SWEDEN |
| Petra Vondráková | VSB-Technical University of Ostrava | CZECH REPUBLIC |
| Rebecca Allen | Mount St. Joseph University | UNITED STATES |
| Reinhold Schodl | UAS BFI Vienna | AUSTRIA |
| Riyad Sadek | American University of Beirut | LEBANON |
| Rob Branch | University of Georgia | UNITED STATES |
| Rostislav Fojtik | University of Ostrava | CZECH REPUBLIC |
| Ruthanne Tobin | University of Victoria | CANADA |
| Sanja Kalambura | University of Applied Science Velika Gorica | CROATIA |
| Silvia Panzavolta | INDIRE | ITALY |
| Siobhan O Sullivan | Khalifa University | UNITED ARAB EMIRATES |
| Soma Datta | University of Houston-Clear Lake | UNITED STATES |
| Stephanie Thompson | Ontario Tech University | CANADA |
| Susan Canning | University of Liverpool | UNITED KINGDOM |
| Susan Pawley | The Open University | UNITED KINGDOM |
| Suzy Connor | Kurume University | JAPAN |
| Tatiana Ginzburg | University of Latvia | LATVIA |
| Tom Wanyama | McMaster University | CANADA |
| Tracey Tokuhama-Espinosa | Harvard University Extension School | UNITED STATES |
| Tuija Marstio | Laurea University of Applied Sciences | FINLAND |
| Ülle Kesli | University of Tartu | ESTONIA |
| Wendy Gorton | Educational consultant | UNITED STATES |
| Zoe Tompkins | The Open University | UNITED KINGDOM |

Back to top