EDULEARN20
will be held virtually on the 6th and 7th of July. A selection of online events will be offered. Here you can find a list of
keynote speeches
and
workshops
that will be scheduled in the live program.

George Siemens

Steve Wheeler

Bryan Alexander

Eric Mazur

Monica Ares

Wendy Gorton

Maria Luisa Spreafico
Keynote Speakers
George Siemens - University of Texas, Arlington (USA)
Digital Learning and Learning Analytics
After decades of progress, research, and innovation, digital learning has been thrust to the forefront as schools, colleges, and companies transition to online learning and interaction. What is known about digital learning? What can practitioners draw from research to inform daily practices? Over the past decade, a new field of research has started to provide guidance and direction: learning analytics. Learning analytics is concerned with learning processes and practices, the contexts in which learning occurs, and ways to provide guidance and support to learning to improve their learning. As the world of learning becomes digital, increasing quantities of data become available for researchers, learners, and educators. This presentation will begin with an overview of digital learning research, then transition into a focus on how learning analytics contributes to understanding digital learning, and conclude by considering how the future of learning will be increasingly one of human and artificial cognition.
About George Siemens
George Siemens researches networks, analytics, and human and artificial cogntion. Dr. Siemens is Professor of Psychology at University of Texas, Arlington. He co-leads the development of the Center for Change and Complexity in Learning (C3L) at University of South Australia. He has delivered keynote addresses in more than 35 countries on the influence of technology and media on education, organizations, and society. His work has been profiled in provincial, national, and international newspapers (including NY Times), radio, and television. He has served as PI or Co-PI on grants funded by NSF, SSHRC (Canada), Intel, Boeing, Bill & Melinda Gates Foundation, and the Soros Foundation. He has received numerous awards, including honorary doctorates from Universidad de San Martín de Porres and Fraser Valley University for his pioneering work in learning, technology, and networks. He holds an honorary professorship with University of Edinburgh.
Dr. Siemens is a founding President of the Society for Learning Analytics Research. He has advised government agencies Australia, European Union, Canada and United States, as well as numerous international universities, on digital learning and utilizing learning analytics for assessing and evaluating productivity gains in the education sector and improving learner results. In 2008, he pioneered massive open online courses (sometimes referred to as MOOCs).

Twitter: gsiemens
---
Steve Wheeler - Plymouth Institute of Education (UK)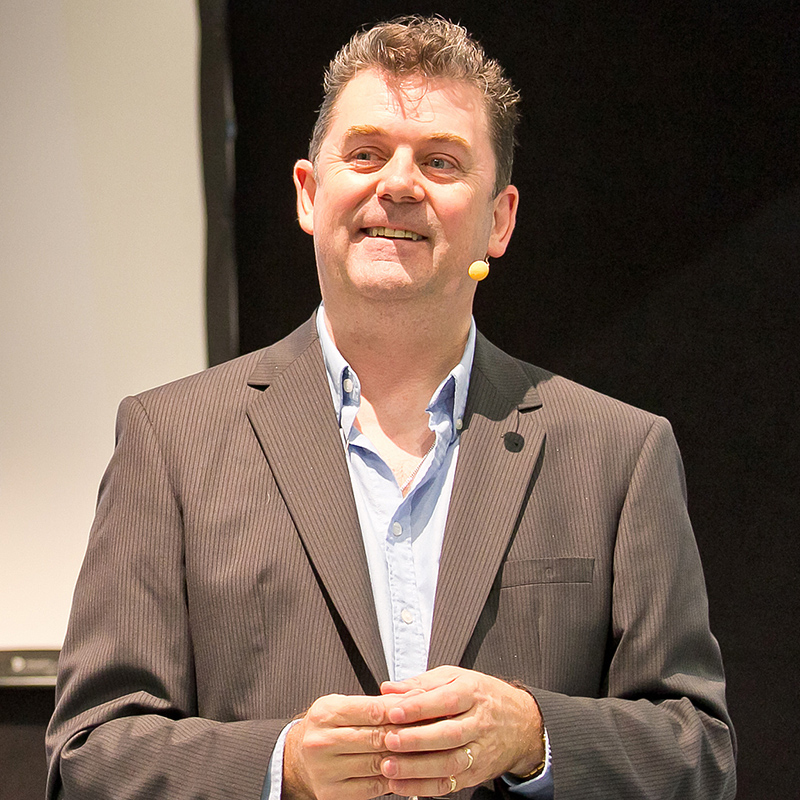 Transitioning to Personalised and Personal Learning
In this presentation I will explore the needs of students in a rapidly changing society, in response to the Coronavirus pandemic. One significant change has been the requirement of many schools, colleges and universities to close their traditional study environments and move all learning online. This transformation presents educators with a unique opportunity to change pedagogy. A transition from en masse, 'one size fits all' education toward a personalised, and personal offering can be achieved using appropriate technology and pedagogical approaches. In this presentation I will differentiate between personalised and personal learning, and provide some examples of each in the context of online learning.
About Steve Wheeler
Steve Wheeler is a Learning Innovations Consultant and former Associate Professor of Learning Technologies at the Plymouth Institute of Education where he chaired the Learning Futures group and led the Computing and Science education teams. He continues to research into technology supported learning and distance education, with particular emphasis on the pedagogy underlying the use of social media and Web 2.0 technologies, and also has research interests in mobile learning and cybercultures. He is author of over 150 scholarly articles, with almost 8000 academic citations. An active and prolific edublogger, his blog Learning with 'e's is a regular online commentary on the social and cultural impact of disruptive technologies, and the application of digital media in education, learning and development. In the last few years it has attracted in excess of 8.5 million unique visitors.
---
Bryan Alexander. BAC (USA)
Higher education when the world is on fire
How will universities cope with emerging crises? As pandemic and climate change start to take hold, what future will we create? This presentation begins by examining the major, long-term forces reshaping higher education, including demographics and globalization. Next we survey how academia has responded to the COVID-19 pandemic. Then we outline some ways universities can grapple with climate change, ranging from transforming campuses to new curricula and research. We conclude by exploring how education and technology practices may unfold in this century of crises.
About Bryan Alexander
Bryan Alexander is a futurist, researcher, writer, speaker, consultant, and teacher, working in the field of how technology transforms education. He completed his English language and literature PhD at the University of Michigan in 1997, with a dissertation on doppelgangers in Romantic-era fiction and poetry.
Then Bryan taught literature, writing, multimedia, and information technology studies at Centenary College of Louisiana. There he also pioneered multi-campus interdisciplinary classes, while organizing an information literacy initiative.
From 2002 to 2014 Bryan worked with the National Institute for Technology in Liberal Education (NITLE), a non-profit working to help small colleges and universities best integrate digital technologies. With NITLE he held several roles, including co-director of a regional education and technology center, director of emerging technologies, and senior fellow. Over those years Bryan helped develop and support the nonprofit, grew peer networks, consulted, and conducted a sustained research agenda.
In 2013 Bryan launched a business, Bryan Alexander Consulting, LLC. Through BAC he consults throughout higher education in the United States and abroad. Bryan also speaks widely and publishes frequently. His two most recent books are Gearing Up For Learning Beyond K-12 and The New Digital Storytelling.
---
Monica Ares - Facebook (USA)
Finding Education Solutions in Unlikely Places
Nothing has had more of a profound impact on learning than Covid19.  The situation we are in right now has forced us to think creatively about the way we teach and the need to accelerate solutions for online and hybrid learning worldwide.  This talk will focus on emerging technologies and their ability to build for a future where learning is more personal, powerful and connected.  By leveraging the power of technology we can pioneer this new movement and redefine the way we teach and learn.  If we had known 10 years ago that we would be in this situation, what would we have built to prepare? Currently, platforms and tools including AR and VR can turn learning into an experienced based approach that will increase engagement and knowledge retention, grant students equitable access to education regardless of distance, and help students become innovative creators. Education is on the cusp of a technology revolution that will require a unified effort to achieve immediate and future solutions. 
About Monica Ares
Through Virtual and Augmented Reality, Monica hopes to empower people to teach and learn in ways they never thought possible before. She believes that quality content, along with virtual collaboration and student creation are powering what's possible in immersive education. As a former educator of 10 years, Monica is thrilled to be developing products and programs to make learning more personal, powerful and connected to the real world. At Facebook, Monica leads Innovative Technology for Education.
Workshops and Webinars
How to flip your class online and improve learning
Eric Mazur. Professor of Physics and Applied Physics and Area Chair of Applied Physics at Harvard University (USA).
The rapid transition to online teaching necessitated by the coronavirus pandemic has been a good opportunity to rethink our approach to teaching. Moving to an online format suggests that many activities that have traditionally been synchronous and  instructor-paced, can be made asynchronous and self-paced. What may have seemed like a challenge, is a great opportunity to improve the quality of education.
Distance Learning Design with Google Masterclass
Wendy Gorton. Consultant (USA)
How does Google Classroom, Meet, and Docs/Sheets/Forms and Jamboard's whiteboard feature all work together to create rigorous distance learning lessons? Join this Masterclass and bring a lesson that you want to digitize for a distance learning scenario. We will host your own Google Classroom, run a Meet lecture, and design a lesson using a collaborative Document, Sheet, and Form.
Digital storytelling for education - the state of the art
Bryan Alexander. Education consultant and teacher (USA)
This workshop explores the ways we use digital storytelling for teaching and learning.  We begin with an exploration of the digital storytelling movement, including the Center for Digital Storytelling/Storycenter model's creation as well as social media and gaming dimensions.  Next we explore many pedagogical uses, from students developing skills and their voices to intersections of digital literacy and curriculum.  Then we dive into support issues, including technological platforms and institutional support structures.  Throughout the session participants will be able to practice hands-on storytelling.
This workshop will be delivered by Bryan Alexander (USA)
Distance Learning Facilitator Masterclass
Wendy Gorton, Director of International Education at EdTechTeam (USA)
Facilitating a class face-to-face and digitally facilitating an online meeting are two different beasts- join this session to explore the top tools for hosting an online session (Zoom, Google Meet, and Microsoft Teams) as we run an online session together in them and some models facilitation techniques, strategies for using the tool, designing breakout rooms, and most importantly, keeping engagement high on these sessions. Bring a meeting/lecture idea you would like to facilitate in mind.
Hand-made Maths Games for Creative Thinking
Maria Luisa Spreafico and Eulàlia Tramuns. Researchers at Politecnico di Torino (Italy).
Come and play with us!!! Whether you love maths or you're afraid of them, you will have fun.
We propose maths games, which use different media and hand-made materials, and are very effective and easily reproducible at class. All the games are adaptable to any school levels from primary to high school.
Social Media and Podcasting Lab
Wendy Gorton, Director of International Education at EdTechTeam (USA)
Have you been interested in Twitter, Instagram, Facebook Live, TikTok and podcasting? Come join this workshop as we practice creating all of these and learn the tools and resources to try out yourself on the classroom.
Yoga and Wellness Retreat
Wendy Gorton, Director of International Education at EdTechTeam (USA)
Come take a break - find a quiet space in your home and a soft mat if you have one or carpet and light a candle. We will explore CASEL's Social Emotional Learning framework and how it applies to learning and teaching, follow a gentle vinyasa flow, and end with meditation and discussion on how you can apply these things in your practice.